Stonehaven is an affordable apartment community and has income restriction guidelines
and student restrictions.
HOUSEHOLD SIZE: Includes each person who will reside in the home.
HOUSEHOLD INCOME: All income from any income source, including but not limited to, all wages, social security payments, retirement benefits, military and veteran's disability payments, unemployment benefits, welfare benefits, and interest and dividend payments.
MAXIMUM ALLOWABLE HOUSEHOLD INCOME: HUD ("US Department of Housing of Urban Development") publishes annual income limits based on household size that are used to determine the maximum household income.
If all household members are full time students, please call the office to discuss.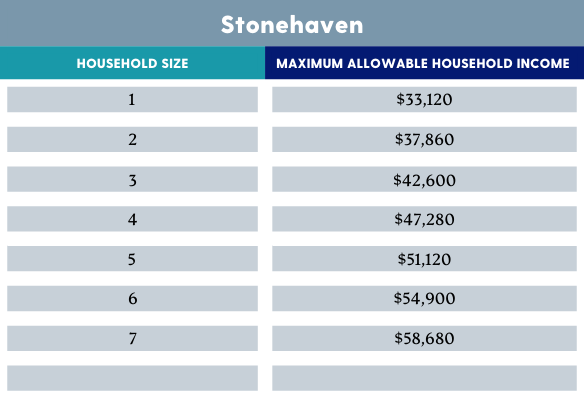 The Application Fee is $23.00.
Click here for a user guide on how to apply online.
An email address per applicant is required to apply online. Click here to view a guide on how to create your own Gmail account.
Testimonials
I love StoneHaven apartments. I've been living here for 10 years and the apartments are well kept and the maintenance team fixes things right away. The staff is great and I love the after school program they have in place for the kids. I would vouch for these apartment & recommend anyone to to live here.

- Resident
I'm so very excited to move here with Susan and Kayleigh! When I first walked in Stonehaven I knew this would be the place for me these are the most kind and professional people ever.They make you feel very welcome!! I would say if you want to move here u want be disappointed. The apartments are very nice quiet. Susan is the most up lifting sprint you would love her. I'm super excited!

- LaKendra S.
I just moved to Stonehaven we have this kids area so they can chill and play games on the computers and right next to it there is a pool so your kids can go for a swim to

- Katherine H.
I'm looking to move from out of town, and when I called to inquire about this property, the staff was extremely courteous, very knowledgeable, and went above and beyond to help fulfill my needs. I was beyond impressed with how helpful this property's staff was to ensure every one of my needs were met in what I was looking for. These people not only know their job, but they went the extra mile to ensure I had all the information I needed. I highly recommend this property!

- Wendy L.